It ain't easy being green
On my mind
Six months ago, I moved into my new apartment and decided it was time to invest in some real houseplants. I literally Googled "good apartment plants" and found a list that included the fiddle leaf fig and aloe vera plant as reliable, aesthetically pleasing options. Off I went to IKEA to bring home my little green babies to brighten up my otherwise dull living space.
After attending a book talk last night for Hilton Carter, the author of "Wild at Home," I learned that the fiddle leaf fig was probably the worst option I could have chosen as a new plant mama. Carter aka The Plant Doctor lives in Baltimore and has over 200 plants in his home. He is known for his popular Instagram account where he shows you how to care for plants and style your space. I was in awe when I first came across his page through Apartment Therapy and watched his helpful video about repotting your plant, which I just did a few weeks ago when I was wondering why my fiddle leaf fig was losing leaves and getting brown spots.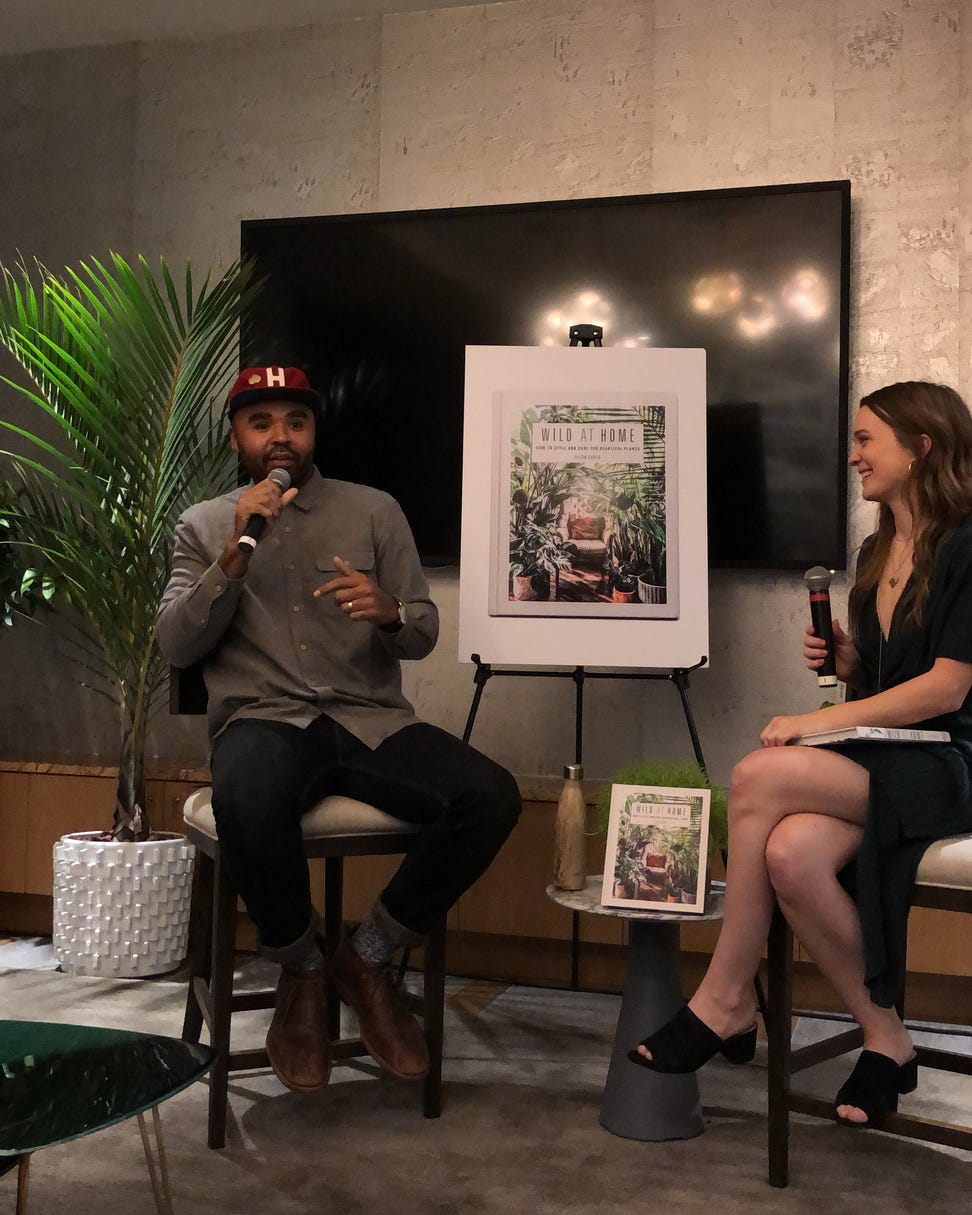 I had never bought soil and repotted a plant in my life, but if I really wanted to take care of my plant, then I had to do it. With my first attempt at it, I thought repotting meant just getting a pot of the same size. That is very very wrong. I was rushing through the articles I was reading and failed to measure my plant properly because I didn't want to get dirt everywhere.
I was forced to order two larger sized pots with self-draining trays and apologized to my fiddle leaf for delaying its watering and having it sit so uncomfortably for several . days. The photo of my failed repotting experience is pretty funny though.
The fiddle leaf fig is a tropical plant that can grow to 6 feet or taller. It's incredibly temperamental with how much sun, water, and moisture it receives, which is why it's challenging to take care of if you don't put in the effort and don't live in the right environment. I initially wanted to place it by my TV, but it's right next to the A/C so the draft will affect it. Luckily, my apartment has a sun room, so that's where my fiddle leaf fig resides now as I search for the perfect spot with indirect sunlight. Meanwhile, my aloe vera is on my TV stand and has hardly gotten any attention outside of weekly watering. Who knows what signs I've been ignoring…
The amount of stress and disappointment in myself through this process has been really surprising. But Carter shared a lot of really hard truths and good advice at his book party, which made me rethink my purpose for caring for plants.
People have always had plants and gardens, but there's been a resurgence especially among the younger generation to fill our homes with plants. They look great on the 'gram and make your space feel more lush and inviting. They're treated as a precursor to children and pets and a replacement for a significant other.
But plants are living beings, as Carter reminded us. They didn't ask to be brought into our homes. When you get a plant, it's like a job or having a pet. You are responsible and have to think about who will care for it when you aren't at home. Don't get a plant and expect it to fit into your schedule and type of home. Study your home and figure out the best plant that can thrive there. He said to build a relationship with your plant and stop trying to get more. (He actually argued for plant shops to make people sign a background check for plants the way shelters do when you want to adopt a pet LOL). Focus on a few plants and spend enough time to understand their unique needs. Talk to them. Meditate. Slow down. Enjoy the quiet and the time spent watering and cleaning their leaves. Stick your hands in the soil. Don't be afraid to get dirty otherwise why bring plants indoors?
I was initially going to get two more plants by the end of the year but not anymore. Running around and just having a reminder set for weekly watering and freaking out about what new thing is developing is not truly taking care of my plants or fully enjoying them. Sure, I wanted plants to add some freshness to my first solo apartment and signify my adultness but that completely cheapens the miracle of life that is happening right in front of me. I want to be more gentle, more present, and more generous for them and for my own well-being.
Fellow plant parents, tell me what you're growing, what your pain points are and what you enjoy about having a leafy green home. If you don't have plants, I'd also love to know your thoughts!
---
What I'm noting