On my mind
I just got a beautiful birthday gift from a friend to help me with my goal of opening up my creativity this year and recommitting to my projects. The Artist's Way: A Spiritual Path to Higher Creativity was published back in 1992, but it's been a best-selling self-help book since then for artists trying to recover their creativity and to give others the confidence and tools to be more creative in their lives. There's weekly readings in this course to guide you through 12 weeks of building up your creative awareness.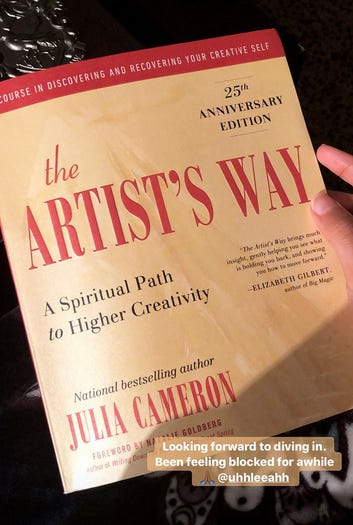 It's only been a week since I've started using the book but the two main features of the course are daily morning pages and the weekly artist date.
✨ Morning pages: Every morning, you have to handwrite 3 pages in a journal before doing anything else. I am not a morning person but I do love to journal so this has been an interesting habit to build. My first few days were great over the weekend and I wrote on the very large pages of the journal that came with The Artist's Way, but the rest of this week I could barely open my eyes, so I switched to my regular sized journal so I could easily finish before rushing to get ready for work. I don't know if that's cheating but hey, at least I did my pages every day. The morning pages are basically a combination of brain dump of anxiety, my to-do list, what I dreamed the night before and feelings about myself and life. You're not meant to do work or anything project-related in these pages which I had to fight.
✨ Artist date: This is meant to be a weekly time carved out for you to indulge in something creative and inspiring by yourself. It could be a long-lost hobby or a movie or taking a walk or coloring. This date must be protected and done alone, not with a group. This week I did yoga, which I wouldn't usually define as artistic but I felt inspired and relaxed by setting aside that time for myself. I've written a list of things I want to do over the next few weeks that I'm really excited about including pottery, calligraphy, museum hopping, and flip-book animation. I've always had the opportunity to do these activities (some I used to do but abandoned), but it's funny how I am more inclined to do it now that I have been given the permission by this book.
I'll keep you posted on the journey and if I notice any changes, discoveries or lessons. I'd love to hear if you've ever read or used this book or if you're interested in trying it out with me!
---
What I'm noting
Moms 4 Housing // The Bay Area's ridiculously expensive housing market has been a problem for awhile but this week, a group of mothers were evicted by a militarized police force from a vacant house they'd been staying in. This is a must watch to understand what people trying to overcome homelessness are up against.

Boxing // A personal essay by Fatima Farheen Mirza on how ownership of our body, how it moves and shows up in the world, and our ability to embrace anger is intimately tied to one's sense of self.

Meghan, Kate, and the Architecture of Misogyny // A good read on how the media's pitting Meghan against Kate is incredibly short-sighted and unfair for women everywhere.
"Kate is held up as an icon for traditionalists, metaphorically baking cookies (as Hillary Clinton once said stay-at-home mothers do), while Meghan has become the emblem of modern womanhood, outspoken and socially progressive. Never mind that they might just be following their own personalities and interests; they have become representatives of two distinct political positions. By carving up the messiness of female lives into a stark binary, the choices open to all women—not just Meghan and Kate—are limited."
Rep. Ayanna Pressley's Personal Hair Loss Story // Loved this vulnerable story about living with alopecia and broadly, about what hair means to black women
15 Books by Women to Read in 2020 // Add these to your reading list and book club schedules.

Every Place is the Same Now // This article is everything I've been feeling for the last few weeks. I'm working in my bed and on my commute and sometimes order groceries on the train and watch a movie from the plane. Because of technology, we are doing so much at the same time that it's hard to know where the office/kitchen/studio/movie theater/mall/family home/bedroom exists anymore. I miss having separate spaces because this kind of life is only convenient until it raises the expectations for you to do more, not relax more.
---
Heads up, I have decided to switch this newsletter to a biweekly schedule, so you'll be hearing from me every other week from now. It was fun connecting each week, but having an extra week in between will be much easier for me (and probably you too!) to keep up with.
Thanks as always for reading and keep sending me what interesting things you're reading/seeing/listening to/creating. I really love hearing from you. Also, if you enjoy this newsletter, want to buy me a coffee?
Have a good weekend!
— Nesima